| | | |
| --- | --- | --- |
| | The Ridge Route Book is no longer available for purchase | |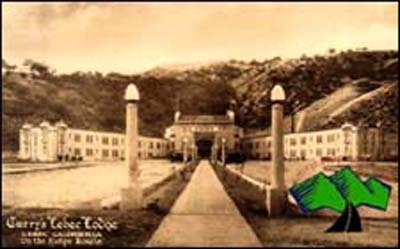 Lebec
The name commemorates Peter Lebec, a French trapper who was killed in 1837 under a tree near Fort Tejon by a grizzly bear that he had shot and wounded.
More noted by the magnificent Lebec Hotel built in 1921 by Thomas O'Brien, a saloon-keeper from Bakersfield and Cliff Durant the automobile manufacturer and airplane instructor of Oakland.
The hotel had Spanish Mission type architecture. It was a playland for Hollywood executives and stars in its hey day. Clark Gable and his actress wife Carole Lombard as well as gangster Benny "Bugsy" Siegal frequented the Lebec Hotel.
Shortly after the hotel opened, Durant apparently tired of his investment and sold his interest to Foster Curry, (son of the concessionaire at Yosemite) in 1922.
Curry and his wife brought a series of lawsuits against O'Brien to rescind the sale, alleging that O'Brien had improperly instituted a foreclosure on Curry's note.
Somehow O'Brien managed to gain control of the hotel as a result of an in-court settlement with Curry.
Over the years the hotel fell into disrepair.
It was officially closed on November 13, 1968 in response to health department charges concerning its substandard water system and dilapidated condition.
The hotel went into receivership and was acquired by the Tejon Ranch Company. They torched the hotel and demolished the remains on April 27,1971 only two weeks after acquiring the property.