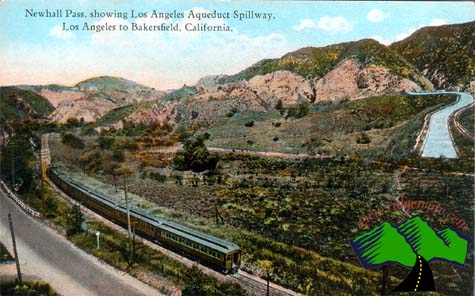 Discovery, Find, Beginnings, Early, Challenge, Breaking, Paving, Residents, Tourists, Kelly's, Conclusion
Residents, and service stops, along the Ridge Route
In the early years of the road, various establishments quickly appeared along the highway. The information on these sites is extremely limited. Pictures are even more scarce.
Originally, Doug Milburn an I had planned to nominate for the National Register that portion of the Ridge Route originating at Castaic and ending at Highway 138 to the north. Unfortunately, various land owners adjacent to the road objected, fearing historical status would impact their properties. A public meeting was held and petitions submitted objecting to our effort. I tried to reassure those present that we were only nominating the highway, which in no way would affect their property. This did not resolve their concerns.
At this point, to expedite the process, we truncated our nomination to include only that portion of the road which is entirely on National Forest property. I believe it is necessary to point out to the reader that many property owners remaining along the remote segments of the road are reclusive in nature, viewing outsiders with apprehension. An exception was the generous cooperation extended by Sam and Gloria Azhderian , prominent members of the Castaic community.Their help was instrumental in collecting information on the Castaic end of the road.
Let's step back in time and motor north from the Castaic School house on the old road. We will climb 2.4 miles. On the right side of the road we would have seen "Queen Nell's Castle," Cornelia Martinez Calahan's home. She and her late husband homesteaded here in 1909. In 1914, she deeded some of her property to the State for the new road.'" She had a small green wooden shack and sold gasoline and cold "pop" to motorists. The highway originally veered west at this point and was destroyed with the construction of the southbound lanes of the 1-5 freeway.
Approximately one mile north we reestablish the original alignment.
Today Nell's homestead is marked by a few remaining pepper trees and two tall side-by-side wooden power poles. Her shack was actually located in the middle of our realigned road at this location. Some locals referred to her as the "witch of the Ridge Route," possibly due to the shack she lived in but more likely because she was a self determined soul. One newspaper account describes Nell having "lowered her shotgun" to greet General Petroleum workmen when they pushed their pipeline through the area.
Another account of January, 1925 reads, "Mrs. Callahan who resides on a ranch west of the Ridge Route was arrested by the local police Wednesday. She is charged with assault and battery on Mrs. C. Pierce, mother of Mrs. Pierre Davies of Castaic. The accused furnished bonds and her trial is set for January 16."